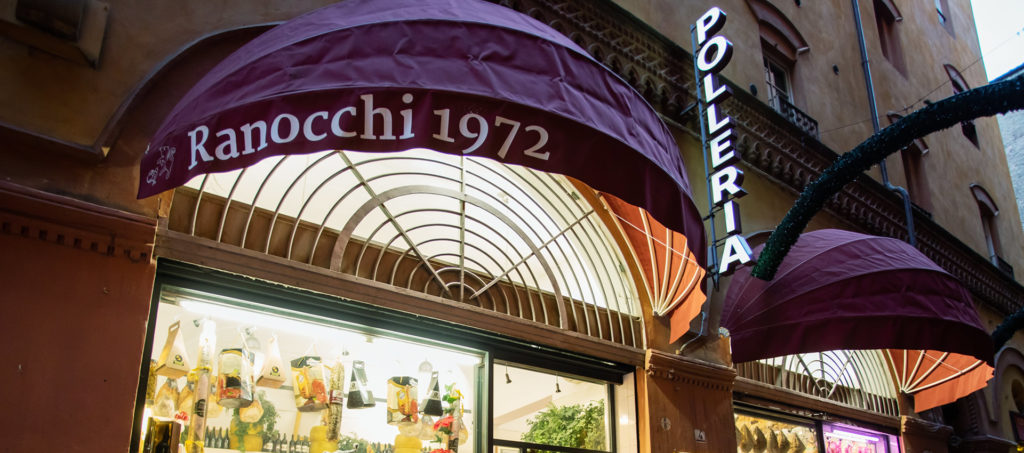 Ranocchi 1972, a poultry shop founded in the 1960s by Antonio Cavarretta and later handed down to his son Massimiliano Cavarretta, has become a gastronomic firm that looks after its customers with passion, provinding them with more and more choice!
The shop opened as a poulterer's inside the old market, where the Bolognese could find a myriad of specialised stalls. There was the cheese counter and that of the fish, but also a specific one for smaller fish; one could find the meat stall, and ovviously, the chicken counter too.
Antonio Cavarretta: "I started as an errand boy, handling the chicken deliveries.
Over time, the small poultry shop acquired the butcher's management, then the cheese stall, and finally, that of the cured meats.
As a matter of fact, today our offer is extremely comprehensive.
Growing over the years, we have developed the necessary experience to advise our customers on how to buy and best consume our carefully selected products".
Massimiliano Cavarretta: "Following my father's footsteps, I manage the commercial and enterpreneurial side of the Bolognese and regional gastronomy; this has also helped us become the main supplier for the majority of caterers in Bologna and in the whole province.
I have an extensive range of ambitious projects to make Ranocchi 1972, which was at the beginning a small shop and then a store, a quality brand of gastronomic excellence!"
Historically, at number 4, there had been since 1302 the church S. Maria del Solaro, which in 1435 was renamed S. Alò. This gave birth to many typical Bolognese exclamations!
Before letting you have a look at our estabishment, let us reveal a curiosity!
Beside the entrance to Polleria Ranocchi, which proudly preserves its founding name, there is a plaque that remembers the Corporazione dell'Arte dei Salaroli, whose exquisite mortadella made world-wide known the name "Bologna the Fat"!
A writing service for essays is a business that provides writing assistance for students. They assign your essay to a professional writer and completes your order in a short time.The next stage is to make an outline, or at least the basic skeleton of your essay writing cheap.An essay writing service that is reliable has a team of experienced writers who are able to handle any academic assignment. They also provide excellent service to their customers.